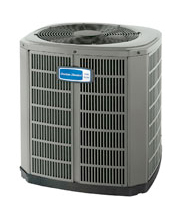 Built to perform and built to last. Our products are engineered to work together to provide greater efficiency, reliability and comfort.
Excellent efficiency at a great value
Reliable heating and cooling
Quiet operation
Need a Quote? Call Texas Air Tech today!
SILVER 16 HEAT PUMP HIGHLIGHTS
Our 17-SEER heat pump saves up to 50 percent on your heating and cooling energy usage while reducing greenhouse gas emissions* by significantly surpassing government efficiency standards
Many models meet efficiency requirements for a federal energy tax credit when installed as part of a complete system**
Lower operating noise to add to your comfort
Uses an environmentally friendly refrigerant that is ozone-safe to heat and cool your home
The Spine Fin™ coil and durable Duration™ compressor add to your systems efficiency and reliability
Rust-resistant coating, screws and basepan protect system from the elements
*Potential energy use comparing an 8-SEER system to a 17-SEER high-efficiency system. Actual energy savings will vary.
**Subject to IRS regulations. Consumers should consult a tax professional for advice on tax preparation.